Our friends at Viking have provided recipes for several of their favorite soups inspired by the places they visit on their European river voyages. I hope these find you embarking on your own culinary journey. With each spoonful, imagine that you are journeying into the heart of Europe on a scenic cruise past the lush vineyards of France, the charming windmills of the Netherlands, the medieval treasures of Czechoslovakia, and the glittering palaces of Russia. For each recipe, you will find an itinerary map and a video that will have you floating away down the Rhone, Rhine, Danube, and Volga rivers.
French Creamy Tomato Soup with Truffle Oil
Warm and rich, this soup can be made in under half an hour for quick, delicious comfort food, and the dash of savory truffle oil adds a decidedly European touch. This sophisticated soup is perfect for a cold winter night or as an elegant luncheon starter.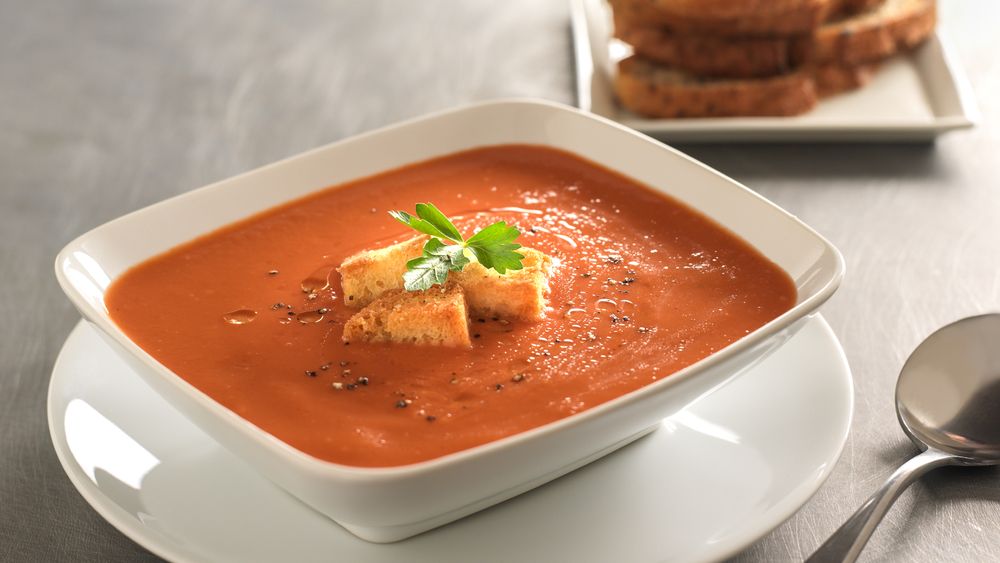 Ingredients
CROUTONS
6 slices French bread, cut into 1-inch (2.54 cm) pieces
2 Tbsp (30 ml) olive oil
¼ tsp (1.3 g) salt
¼ tsp (0.5 g) pepper
SOUP
4 Tbsp (57 g) unsalted butter
1 C (151 g) onion, chopped
2 28-oz (858-g) cans diced tomatoes
2 C (473 ml) low-sodium chicken broth
2 C (273 ml) half-and-half
1½ tsp (7.5 g) salt
¼ tsp (0.5 g) pepper
White truffle oil
Directions
CROUTONS
Preheat oven to 375°F (190°C). Place bread on a baking sheet, drizzle with olive oil; sprinkle with salt and pepper; toss to combine and bake until golden brown, about 8 minutes. Set aside.
SOUP
In a large saucepan, sauté onions in butter 2–3 minutes. Add tomatoes, chicken broth, half-and-half, salt and pepper. Bring to a boil, reduce heat; simmer 10 minutes. Remove from heat; let cool slightly. Working in batches, transfer to a blender or food processor and blend until smooth. Ladle into soup bowls, garnishing each with croutons and 3–5 drops of truffle oil before serving.
Prep time: 5 minutes.
Cook time: 23 minutes.
Makes 6 servings.
Dutch Split Pea Soup
Healthy, hearty and packed with flavor, this Dutch version of split pea soup (known as snert), is one of the signature dishes of the Netherlands. During cold winters, small food and drink stalls called koek en zopie spring up along frozen canals serving snert to ice skaters. It is a real treat and easy to make.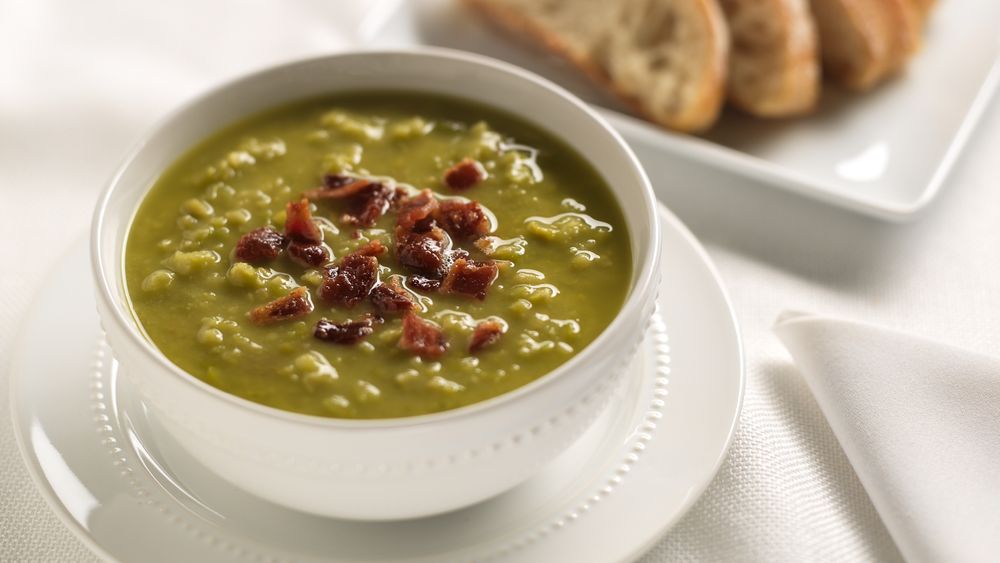 Ingredients
SOUP
1 lb (454 g) dried split peas
8 C (1893 ml) low sodium chicken broth
1 med onion, diced
1 ham hock, about 1 lb (454 g)
1 bay leaf
2 tsp (10 g) salt
1½ tsp (7 g) pepper
8 slices of bacon, cooked and crumbled
Directions
SOUP
Clean and rinse peas; place in medium stockpot with chicken broth. Bring to a boil over high heat; then reduce to low and simmer 10 minutes. Add onion, hock, bay leaf, salt and pepper; stir to combine. Reduce heat to low and cook about 40 minutes until peas are soft and creamy, stirring often to prevent burning and adding water or additional broth if soup thickens too much. Remove ham hock; pull meat off, chop and add back to soup. To serve, ladle into bowls and garnish with bacon.
SERVING SUGGESTION
Excellent with chilled beer and big chunks of crusty bread.
Prep time: 5 minutes.
Cook time: 42 minutes.
Makes 8 servings.
Czechoslovakian Garlic Soup
According to Czech lore, Česnečka (garlic soup) will cure just about anything, even the common cold. It certainly tastes rich and comforting. So, if you feel under the weather, make a big pot of this simple soup of broth, potatoes, garlic and cheese to help you feel better.
Ingredients
4 thick slices rye bread, cut into large pieces
1 Tbsp (15 ml) olive oil
2 Tbsp (29 g) butter
1 C (151 g) yellow onion, diced
6 cloves garlic, minced
8 C (1893 ml) low sodium chicken or beef broth
2 lg potatoes, peeled and chopped
½ tsp (2.5 g) salt
¼ tsp (0.6 g) pepper
4 oz (113.1 g) Emmental or Swiss cheese, cut into ½-in (1.27-cm) cubes
2 Tbsp (2 g) dill, chopped
2 Tbsp (5 g) flat leaf parsley, chopped
Directions
Preheat oven to 350°F (176°C). Place bread pieces on a baking sheet; drizzle with olive oil, tossing to coat. Bake until deep golden brown, about 9 minutes. Set aside. Place butter in a medium pan over medium heat; add onions and garlic. Cook, stirring frequently, until translucent and softened, about 3 minutes; add broth; bring to a boil over high heat. Add potatoes, salt and pepper; reduce heat and simmer until potatoes are tender, about 20 minutes. To serve, place croutons and cheese cubes in individual soup bowls and ladle soup on top; garnish with dill and parsley.
Prep time: 5 minutes.
Cook time: 32 minutes.
Makes 4 servings.
Russian Borscht
This beet soup is a staple of Russia and eastern Europe. Thought to have originated in Ukraine, its name is derived from Yiddish. There are as many recipes as there are cooks: it can be thick and hearty or clear and light; served hot in winter or cold in summer. This hearty version is made with beef stock.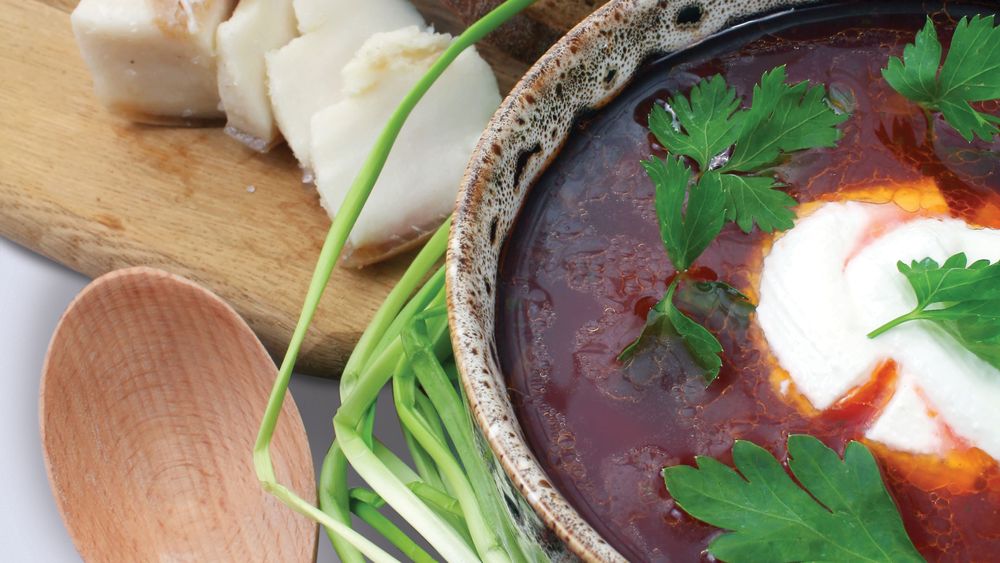 Ingredients
SOUP
8 C (1893 ml) low sodium beef broth
2 C (450 ml) tomato sauce
2½ C (170 g) cabbage, shredded
½ C (35 g) carrots, shredded
1 C (100 g) onions, thinly sliced
2 tsp (8 g) sugar
2 C (300 g) raw beets, cut into strips
Salt and pepper to taste
2 tsp (10 ml) vinegar
PLATING
5–6 Tbsp (38–45 g) sour cream
¼ C (2–3 g) fresh dill, finely chopped
Directions
SOUP
Combine broth, tomato sauce, cabbage, carrots and onions in a large pot and bring to boil over medium heat. Stir in sugar; simmer 20 minutes, skimming occasionally, until vegetables are tender. Add beets. Season with salt and pepper; add vinegar and continue cooking until beets are tender, about 10–15 minutes.
PLATING
Garnish with sour cream and dill or experiment by adding julienned beets, celery or cucumber; chopped green onions or thinly sliced red onion; curly parsley or sliced hard-boiled eggs.
Prep time: 7 minutes.
Cook time: 35 minutes.
Makes 4 servings.