Regardless of the connected religions, many spring holidays and celebrations share the themes of rebirth and renewal. Because of this, there often is overlap in traditions, rituals, and foods associated with these holidays. As I have written previously, observing or even participating in a local tradition or celebration is a great opportunity to immerse yourself in the culture of a destination. There's nothing like breaking bread (or matzah) or watching a ceremony or procession to really get to know the values and of a community. Check out a few of the more interesting traditions and celebrations from around the world by reading below:
Florence, Italy – Scoppio del Carro (Easter)
When the pandemic hit Europe and the US in March 2020, our son Will was in Florence, Italy for his junior year study abroad program. He was sent home, of course, and we did not go on the Spring Break trip we had booked to visit him. One of the events I was most looking forward to was the centuries-old "Scoppio del Carro" (Explosion of the Cart) on Easter morning. Using a cart that dates back to 1494, a tower of fireworks is pulled by oxen through the historical center of Florence, in a procession of soldiers, musicians, and others dressed in 15th century period clothing. When the procession reaches the Piazza del Duomo, the archbishop lights a dove-shaped rocket which runs on a cord from the altar of the cathedral, through the central nave of the church, and smashes into the cart outside, causing it to explode into a 20 minute fireworks display.. I'm still determined to see this in person someday!
Antigua, Guatemala – Holy Week Outdoor Carpets (Good Friday)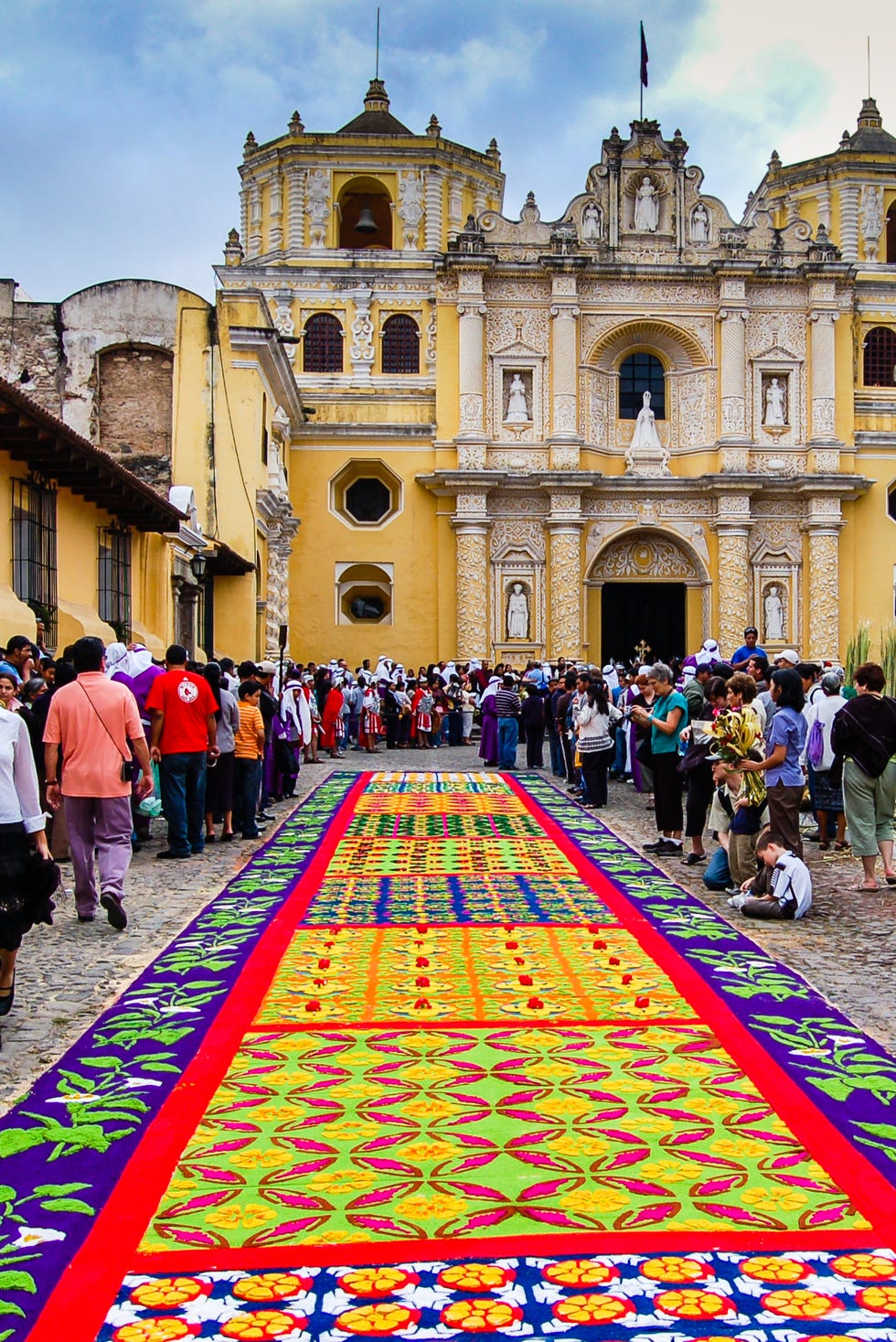 Throughout Holy Week, this former colonial capital covers its streets in colorful carpets made from flowers, colored sawdust, fruits, vegetables, and sand. Created in preparation for its Good Friday procession, the carpets often are covered in scenes that are important to the artists who make them, ranging from religion to Mayan traditions to nature and Guatemalan history. With some as long as half a mile, artists use stencils to assemble the carpets quickly. They have just 24 hours to create their works of art the day before the Good Friday procession.
Bermuda – Kite Festival (Good Friday)
Legend has it that a Bermudian teacher was trying to explain Christ's Ascension. When the students were not convinced, the teacher launched a kite in the shape of Jesus Christ to demonstrate. Now, Horseshoe Bay Beach hosts a kite festival each year on Good Friday. You can enjoy the beauty of many different types of colorful kites along with the beautiful pink sand beaches of Bermuda! There is a competition for the best kites in various categories, as well as fun activities such as an Easter egg hunt, races, and games.
Morocco – Mimouna (Celebrating the End of Passover)
Many Moroccan Jews celebrate the end of Passover, when they can resume eating leavened foods, with a Mimouna. This post-Passover celebration, which has spread to other countries including Israel, includes a feast of sweets and pastries shared with neighbors. Many of the items on the Mimouna table repeat the number 5, such as dough with five fingerprints or five silver coins. Foods like fish, fig leaves, stalks of wheat, and honey often symbolize luck or fertility.
Spain – Head-Tapping with the Seder Plate (Passover)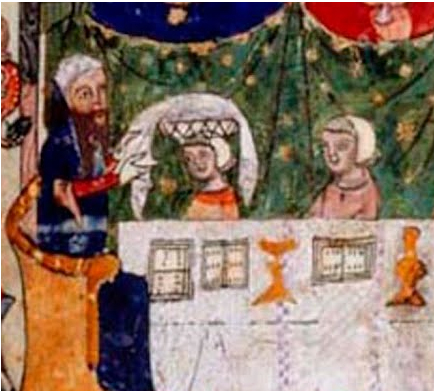 If you are invited to seder in Spain, you may experience a Sephardic custom that began here in the 14th century. The seder leader walks around the table three times with the seder plate in hand, tapping it on the head of each guest. The tapping is said to bless those whose heads are tapped. It also encourages the children to ask questions.
Northern India – Throwing the Colors (Holi)
Undoubtedly one of the most colorful festivals in the world, Holi is celebrated by Hindus across Northern India. It involves throwing colored powder at one another, which pays tribute to the many hues of the spring season as well as events from Hindu mythology. Usually lasting a full day and night, the festival is a gloriously colorful and happy celebration of the end of winter and the spring growing season. You don't have to travel to India to experience Holi. Over recent years, Holi celebrations have been held all over the world.
Japan – Honoring the Dead (Shunbun No Hi)
The spring equinox is a national holiday in Japan. On Shunbun No Hi, workplaces and schools are closed, and families work together to clean loved ones' gravestones and leave behind offerings of rice dumplings. For many Japanese people, the first day of spring is an opportunity to honor the past while looking ahead to the future.
Central Asia – Nowruz (Persian New Year)
Nowruz means No (new) and rouz (day). Celebrated as the first day of the first month of the Iranian calendar and coinciding with the spring equinox, Nowruz symbolizes new life, new beginnings, and the rebirth of nature. People of Persian descent have different traditions depending on where they live, but the multi-day celebration often starts with people cleaning their homes and moves into a multi-day festival of bonfires, costumes, and family remembrance.
Many of us in the United States associate Spring Break with Easter and Passover. But Spring holidays and celebrations are held all over the world and in many different cultures. Participating in a tradition such as those described above can enhance your travel and help you get to know the people, not just the place, wherever you roam.
If you would like to experience any of these events and celebrations in person, give Legacy Travel Designs a call! We can curate a perfect adventure with VIP access, luxurious accommodations, and private or small group transfers and transportation. Remember – the gift of shared discovery is a priceless way to build memories and bonds that will last for a lifetime!